In-House Lawyers Are Stressed and Want to Walk Out, New Survey Says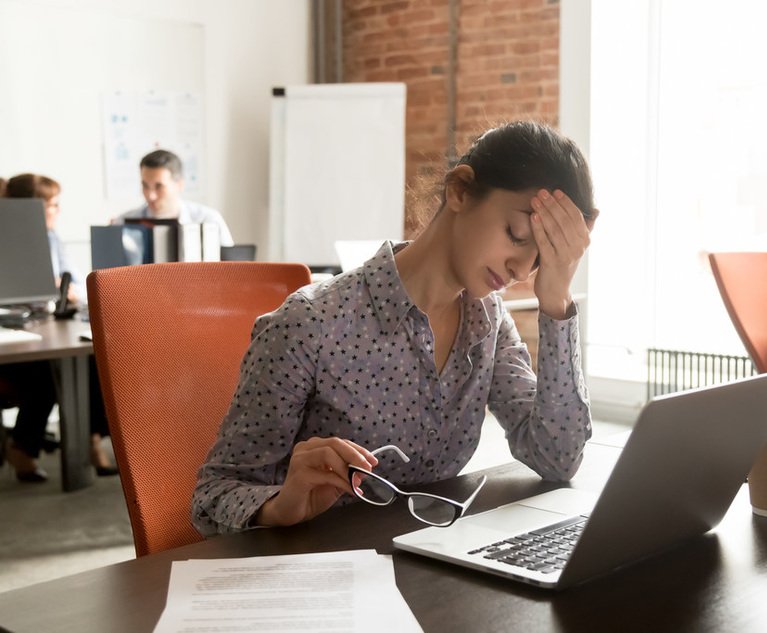 A new survey by Wakefield Research found increased percentages of corporate counsel are feeling stressed out at their legal departments.
Corporate attorneys are looking to leave the in-house world, according to the survey that reviewed responses from more than 300 in-house counsel based in the United States in May and June.
About three-fourths of the survey participants reported feeling burned out in their jobs, and almost half said that they were extremely stressed or burnt out. About 69 percent of those respondents reported that they planned to find a new job in 2023.
"If I'm an in-house leader, I'm concerned about this report," said Sara Morgan, global head of legal talent at Axiom in New York. "What it's telling me is that more than half of my legal team could be considered a flight risk, with replacements being really hard to find and even harder to actually hire."
Making up the survey were about 150 attorneys or counsel, with about 60 senior counsel, 30 associate counsel and the remaining in upper-level legal positions. About a dozen of the respondents were general counsel. The survey was conducted for in-house counsel in a variety of industries ranging from finance, health care to food and beverage.
Almost 90 percent of respondents said turnover was affecting their legal departments, and about 41 percent said their departments needed more legal staff. Almost 80 percent of respondents believed they needed to find a position at another company to advance in their careers.
Are you interested in learning more about burnout amongst in-house counsel? Read more in this law.com article.