Career Advice with James Goodnow, Managing Partner, Fennemore Craig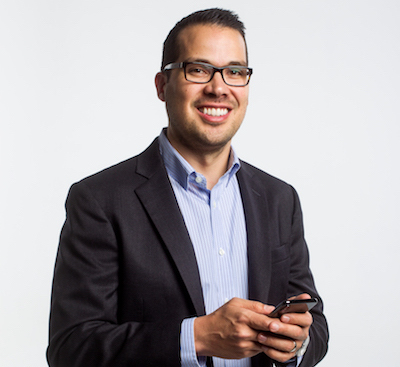 In the first of our interview series with successful lawyers in the field, we're delighted to bring you some great career advice from James Goodnow, one of the youngest lawyers to run a large American law firm.
Career Stats
Name: James Goodnow
Current role: Managing Partner, Fennemore Craig
Law School: Harvard Law School
First job: Summer File Clerk, Fennemore Craig
Years of experience: 18 in law; 12 as an attorney
Tell us about your career path and how you got to be where you are today?
Law runs in the family.  My dad was a lawyer, first for the government, and then later as an in-house attorney.  I knew from a young age I wanted to follow in his footsteps, even if I didn't fully have an understanding of what being a lawyer meant.  I got my first job in the legal world as a summer file clerk at Fennemore Craig.  I returned to Fennemore during law school as a summer associate, got hired full time after graduation, made partner, joined the management committee, and now serve as the committee's chair.  I've been privileged to make this firm my home for my entire career, and have held positions at every level.  That's allowed me to see the firm from the inside out and understand it in unique ways.
What's the biggest challenge in your current role, and how are you handling it?
We're facing many of the same challenges that are plaguing the legal industry as a whole.  The market for private legal services is contracting generally, as bigger players are moving more and more work in-house.  The clients that remain are pushing for lower rates and commoditized practices, which at a certain point aren't sustainable.  Non-traditional legal service companies are stepping in and taking up market share. We're working to stay ahead of these challenges by encouraging innovation, rethinking the law firm model, keeping overhead low, and providing reminders to our clients that the quality of legal service they get from a firm like Fennemore isn't something that you can go out and replace tomorrow with an off-brand copycat.
What qualities do you think make you successful in your role?
More than anything, I think it's how much I enjoy interacting with people.  The modern legal practice is hugely centered around interpersonal communication.  I feel joy when I get to know my fellow attorneys and legal professionals, learn about their interests, get to know their families.  Those kinds of connections help me do my job better.  I understand the needs of the firm's people better, and I hope it also helps them trust me when I come up with proposals for the firm.
I've also benefited from being an unapologetic tech nerd.  My practice sits at the intersection of law, business, and technology.  We use tech to connect with clients, prepare cutting-edge video demand packages, track and analyze our numbers, and position ourselves online.  Being an "elder Millennial" puts me in a sweet spot to be young enough to embrace technology, while still being able to work with people of different generations – including those who aren't ultra-tech savvy.
What's the best piece of career advice you were given? What's the worst?
Best: "There's no substitute for hard work."  Simple, but true.
Worst: "Friends are friends, business is business."  I've never liked this one.  I've typically heard people use this when they're trying to justify hurting someone they care about.  It strikes me that you don't say this unless you know you're doing wrong by somebody important to you. On a more practical note, for supposedly being pro-business, this advice can be a bad business move. Business is about relationships, and once you're known as someone who can hurt those you're close to, every relationship you have is going to suffer.  I'm friends with the attorneys in our firm, and I aim to treat them with respect.  Sometimes, tough decisions have to be made.  That doesn't mean you can't make those calls compassionately, and in a way that allows everyone involved to maintain their dignity.
What do you know now that you wish you knew when you were starting out your legal career?

Whatever stress you're dealing with today probably isn't going to matter in five years.  There's always another emergency around the corner, another fire you're going to have to put out, so save your energy and don't stress yourself out over every little snag you hit.  Take the long view, stay calm, and keep things in perspective.  Whatever you're facing, you will handle it.   Billions of people on this planet are having a worse day than you are.  Take a breath, keep moving, work hard, and everything will be better soon.
Where do you go now for career or work advice?
I've been blessed to have had more mentors over the years than I can name in this space. I'm grateful for all of them.  Recently, I've really come to rely on the two former managing partners at our firm that are still practicing.  I meet with them regularly for insight and guidance as I transition into the new role.  More than anything, though, my close friend and firm partner Marc Lamber has been an invaluable mentor to me through my entire career.  I wouldn't be the lawyer I am today without his advice, and I'll continue to sit under his learning tree as long as he'll have me.
How is technology impacting your role / organization / industry?
Every way possible.  Law is now a 24/7, global business.  Clients expect constant communication, and cloud-based document storage means that being out of the office is no longer the impediment to working that it used to be – for better and for worse.  Tech-based competitors like LegalZoom are eating up market share, keeping traditional law firms on our toes.  Tech-enabled virtual law firms like FisherBroyles are also challenging the traditional model.  Insurance companies and major corporate players are using Big Data analysis techniques to quantify and commoditize the practice of law.  My own firm is experimenting with AI-based legal research.  Law is heading for a massive tech disruption, and we aim to be on the leading edge of those changes.
What causes are you personally invested in?
I care deeply about developing diverse representation within the firm.  Prior to becoming chair of the management committee, I chaired the firm's Diversity and Retention Council, which was charged with bringing in and keeping diverse attorneys.  The legal industry as a whole has struggled to bring in diverse attorneys, and more importantly to keep them on track to partnership.  The entire industry loses far too many diverse attorneys as they climb the associate ladder.  Encouraging diversity isn't about touchy-feely, political correctness; it's about developing a major competitive advantage.  The research is clear that diverse teams are stronger, smarter, more efficient teams.  The legal industry can't afford to continue letting strong, bright attorneys fall through the cracks.
How are you balancing work and your personal life?
This is the single biggest challenge I face.  I'm blessed to be married to my high school sweetheart, who's a businesswoman in her own right as the CEO of the college admissions consulting firm Going Ivy, and together we have two beautiful kids.  I'd gladly spend every minute I had with them, but my practice entails long hours, short deadlines, and a lot of travel.  And that was before I became chair of the firm's management committee.  These days I take my kids to school every morning and do my best to be home by 7 pm to tuck them in and give them a goodnight kiss.  I catch up with my wife after the kids' bedtime, and then usually have to hit the computer again to catch up on emails before bed.  I work hard to keep as much of the weekends free as possible and to carve out the odd lunch date or school trip wherever I can.  It's not easy, and it's something I've long been working on being better at.
Beyond work, what are you most passionate about?
Working out is a big part of maintaining my wellbeing, both for physical fitness and mental.  Given how little time I have for family already, workouts are even harder to fit in, but I try to find the time.  Workouts function as "me time," which everyone needs at some point.   I grew up a competitive cyclist, and I lament the fact that my bike mostly collects dust.  These days, I typically get up early, around 4:30 AM and work out in my house before the kids get up for breakfast.  I also recently splurged on a treadmill desk for my office, which is perfect for tapping out emails on an iPad or handling phone calls.
See our law firm openings and start your job search with Lawjobs.com today.