Caroline Tsai, Executive Vice President & General Counsel at Western Union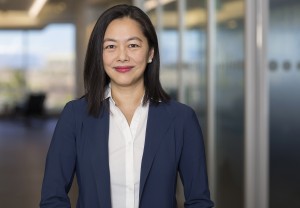 Name: Caroline Tsai
Current role: Executive Vice President & General Counsel, Western Union
Law School: American University, Washington College of Law
First job: Pharmacy Cashier  
Years of experience: 19
Social media handles: https://www.linkedin.com/in/caroline-tsai-25092428/
Tell us about your career path and how you got to be where you are today?
I started out as a deal lawyer, structuring transactions for large investment banking clients. This was pre-crisis. From there, I was recruited to go in-house with one of my clients – Bank of America. In my almost nine years there, I went from being a business lawyer in my first in-house role, hired as a capital markets fixed income attorney, to quickly raising my hand to take on the Chief Financial Officer's Group. My role covered everything from structuring very complicated capital mitigation and tax deals, to running BAC's $100bn securitization program, to Dodd Frank rule-making on Capitol Hill, to managing investor relation issues during the crisis, to navigating the litigation portfolio that we acquired through several large acquisitions.
What really stood out for me from that experience was that going in-house enabled me to take my skills as a deal lawyer and use them to build relationships to really understand the business. I learned that this applies in every area of law in-house, whether it's understanding a litigation matter, negotiating a significant transaction, advocating on behalf of the company with the regulators; all of that is interwoven with one of the most important things you need to do as a lawyer, which is truly dig deep and understand the business. This is one of the lessons I learned quickly in-house; no matter what area of law you're covering, if you understand the business model, you can be an effective in-house lawyer.
I think that is where I learned to be a strategic business partner. In-house roles, in my view, teach you how to lead, how to truly understand, support and grow the business, how to drive growth and innovation, how to develop and nurture talent.
From Bank of America, I moved onto BMO Harris Bank where I was CLO for U.S. Personal and Commercial Banking. Some highlights from my time in that role are navigating significant litigation portfolio, as well as leading the $9bn acquisition of the GE Transportation Finance business.
We also built out a robust compliance and risk management framework, working closely with Compliance and Risk in an era when the Consumer Financial Protection Bureau had heightened expectations for retail banking.
In my subsequent role as Deputy GC at Bank of Montreal, my team developed an enterprise regulatory developments framework to enable the company to identify, assess, analyze and implement significant regulatory developments across the globe.
A key learning for me was that you should always look for stretch opportunities and look for opportunities to find solutions. I've never regretted taking on a new area or a new business because every single experience I had in-house was a stepping stone to being better prepared for my Deputy GC role at BMO, and ultimately, my GC role at Western Union.
As for my Western Union role, it's been very much an eye-opening experience to move from banking to a Money Services Business and see how all the regulatory experiences I had in banking are relevant here. At Western Union, so much of our work is technology and fintech-focused. It's the most complex and global business I've ever covered but what's positioned me to embrace it and to provide good guidance is the fact that I like complexity. I've had years of dealing with regulatory complexity – I see this role as another opportunity to leverage those experiences.
What's the biggest challenge in your current role, and how are you handling it?
My current role is the most enjoyable and the most complicated job I've ever had. I have overall responsibility for the Legal, Compliance, Public Policy, Privacy, Corporate Secretary and Ethics functions at Western Union. As a global payments' provider, doing business in more than 200 countries and territories, the expansive scale and scope of our global operations means navigating a complex regulatory and compliance landscape. We deal with a wide range of policy issues, ranging from consumer protection to AML, fraud, security, and privacy.
I consider both myself and my legal team very lucky to be here, working with such interesting and complicated issues every day. We are part of an industry that is looking to blockchain, to Artificial Intelligence, to crypto – all of these provide new areas of development where our lawyers have opportunities to learn, to become subject matter experts and to earn a seat at the table with the business. The people on my team who seem to navigate it well are the people who love complexity. That's why it's so fantastic to lead this team made up of talented and innovative lawyers.
Nine months into the role, what I'm most proud of is that I've seen the excitement and the evolution of my top talent. I've recently restructured my Legal department and I've put resources against three areas which I call 'high value' work. That includes customer experience initiatives, innovation – within which blockchain and fintech are focus areas – and risk management, which captures areas like cyber security, data protection and information security, three areas that are top of mind for me as a GC. Those three areas have really become my additional areas of focus alongside supporting the Global Money Transfer and Global Payments businesses.
Partnering with the business and working collaboratively is key. For us lawyers, it's great to be challenged in your role and I feel lucky to have this opportunity.
What qualities do you think make you successful in your role?
I would turn this around as to what qualities I look for in my team; impeccable judgement, agility and creativity.
What's the best piece of career advice you were given? What's the worst?
Throughout my career, I've learned three key pieces of advice to keep developing.
The first, which I touched upon earlier, is to always look for stretch assignments and seize the opportunities they present. Do things that others don't want to do – raise your hand and learn it.
The second is to develop a network of people, both from within your team and outside, and continually build that network. A former boss used to advise me to make time every week to have coffee or lunch with a business partner. After I'd moved onto another role, he subsequently told me that the fact I'd taken that advice was why I was no longer there! Particularly for lawyers, it is critically important to really understand what's going on outside your company and what your competitors are doing. By building that network, it has enabled me to be able to deal with a number of industry issues because, although many of us are competitors, there are some regulatory issues where it's actually very beneficial to have a network and to come together as a group to analyze impacts.
A third piece of advice is to take time to give back to the communities we serve, whether that be mentoring law students or high potential diverse talent. Getting involved in this kind of work has actually helped me develop professionally at times when I didn't manage a team.
What do you know now that you wish you knew when you were starting out your legal career?
The value in leading initiatives, not necessarily people.  
In my first in-house role, there was no opportunity to get promoted unless you were promoted to manage people. My boss advised me to get involved in affinity groups, and that that would be my path to building leadership skills because I didn't manage anyone at that time. So, I did. I took a leadership role in and built out a program at the time of the crisis that really helped support the company's brand, as well as developing high potential talent.
When it was time for that next promotion discussion, I was promoted – not solely due to the substantive work that I did, but because I had demonstrated leadership. There are always opportunities for individual contributors – seek them out!
Where do you go now for career or work advice?
I have what I call my own Board of Directors; former bosses, mentors and sponsors with whom I remain in regular contact.
What causes are you personally invested in (e.g. diversity, politics, environment, mentorship)?
In the past 15 years, I have focused on driving diversity and inclusion in the legal community and financial services and on mentoring diverse talent. I currently serve as Co-Chair of the Women's Leadership Network for the National Asian Pacific American Bar Association.  
One of the reasons why Western Union attracted me was the value it places on financial inclusion and its impact in the community. Our omni-channel strategy is inclusive: we give our customers – many of whom are migrants sending money back home to support family and friends – more avenues to send and receive money. In fact, we are uniquely positioned to build bridges that connect people who are digitally advanced with those in the world who are not yet online.  In many ways, Western Union's mission and the impact it makes resonates with me particularly because I am an immigrant and someone who has always been focused on giving back – it is a great fit for me.
Another passion of mine is developing talent. It really pushes you to stretch your mind – not to think of yourself just as a lawyer but to take every opportunity to find solutions, to empower and develop your team. What I'm most proud of are the teams that I've developed, and to see each of them continue to grow and to stretch. It's the people that I've developed, more so than the substantive transactions or litigation matters that I've handled, that make me most proud.
How are you balancing work and your personal life?
I started out my career with a three-month old baby in tow, so a work-life balance is something I've always had to navigate. I was lucky to have an incredibly supportive spouse and great childcare from my own parents at certain points in my career. I found that there was more flexibility in-house, a better network of support for both men and women. Law firms have subsequently caught up, but in-house definitely started the trend toward flexibility.
I think it's critical for men and women are supported with flexible work arrangement, especially with our millennials who are demanding and expecting flexibility in the work place.
Beyond work, what are you most passionate about?
Family, my kids, cooking – I love to cook. I also love learning about different cultures, having family all over the world myself.